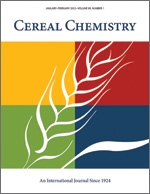 Cereal Chem 67:476-479 | VIEW ARTICLE

Detoxified and Debittered Jojoba Meal: Biological Evaluation and Physical-Chemical Characterization.

L. A. Medina and A. Trejo-Gonzalez. Copyright 1990 by the American Association of Cereal Chemists, Inc.

A new methodology was established to remove the toxic compounds present in jojoba (Simmondsia chinensis) seed and meal. Jojoba meal and seed without testa were defatted with hexane and detoxified with 70% aqueous isopropanol, which removed 86% of the total phenolic compounds and 99% of the simmondsins (simmondsin and simmondsin 2-ferulate) originally present. It appears that simmondsin-2- ferulate is the major bitter principle and that the conjugation of simmondsin with ferulic acid results in a combined bitter and toxic response. Protein from detoxified, debittered jojoba flour was comprised of three fractions: water-soluble (61.8%), salt-soluble (23.6%), and alkaline-soluble fractions (14.6%). The nitrogen solubility curves showed isoelectric points of pH 3.0 for the water- and salt-soluble fractions and pH 4.5-5.0 for the alkaline-soluble fraction. All fractions had maximum solubilities at pH 7.0. The detoxified and debittered jojoba meal and flour showed improved palatability and caused no deaths of experimental rats. Net protein ratio values obtained for diets containing the detoxified and debittered jojoba products were not significantly different from the casein control. The methodology reported here offers a viable solution for the elimination of toxic and bitter simmondsins and phenolics from jojoba meal or seeds.