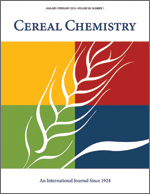 Cereal Chem 37:109 - 120. | VIEW ARTICLE

Effect of Flour Lipids and Some Lipid Derivatives on Cookie-Baking Characteristics of Lipid-Free Flour.
E. W. Cole, D. K. Mecham, and J. W. Pence. Copyright 1960 by the American Association of Cereal Chemists, Inc.
Cookies baked from flours which had been extracted with water-saturated n-butyl alcohol were generally darker brown in color and had diameters appreciably smaller than those baked from untreated flours. The restoration of lipids to the extracted flours resulted in an increase in cookie diameter and an apparently complete recovery of the characteristics of cookies baked from the original flours. Approximately three-fourths of the total lipid must be removed from a flour before definite changes in cookie-baking behavior (top grain and color) are noted. When the lipids of two flours (which differed in cookie-spread properties) were interchanged, the diameter of the cookies was the same as that of cookies from untreated flours; that is, the diameter appears to depend on constituents other than flour lipids. When lipid-free flours were supplemented with the phosphorus-free fraction from flour oil, no improvement occurred in the cookie-baking quality of these flours; the phosphorus-containing fraction, however, produced complete recovery of cookie characteristics. Soybean or corn phosphatide preparations and a purified soybean lecithin also brought about a similar improvement.