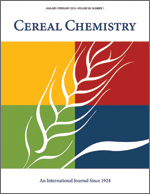 Cereal Chem 37:151 - 157. | VIEW ARTICLE

Observations on the Reactivity of Sulfhydryl Groups in Wheat Flour.
H. A. Sokol, D. K. Mecham, and J. W. Pence. Copyright 1960 by the American Association of Cereal Chemists, Inc.
In flour samples dispersed in urea solutions (pH 7.0-7.5), sulfhydryl groups reacted faster and more extensively with mercuric chloride and N-ethylmaleimide than with iodoacetamide; with fourfold excesses of these three reagents, 100, 70, and 10%, respectively, of the total sulfhydryl groups reacted in 20 minutes. Very little or no effect of potassium bromate on the sulfhydryl content of doughs mixed in air was found at normal bromate dosages with straight-grade flours. However, with a fifth-break flour, a small decrease in sulfhydryl content resulted from bromate additions to fermented and nonfermented doughs. During prolonged mixing in air, about half the sulfhydryl groups of a spring wheat flour were lost. Additions of an anionic detergent of the alkyl sulfate type did not affect this loss, although the expected stabilization of a recording mixer curve was observed.