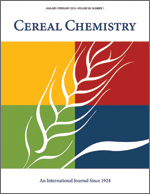 Cereal Chem 37:189 - 196. | VIEW ARTICLE

Pilot-Plant Preparation of Hydroxyethylated Flours.
E. B. Lancaster and V. F. Pfeifer. Copyright 1960 by the American Association of Cereal Chemists, Inc.
Reaction of ethylene oxide with various cereal flours was accomplished in a simple reactor that prepared 10-lb. batches of hydroxyethyl flours for evaluation studies. One satisfactory method for integrating 2.5% of sodium hydroxide catalyst into the reaction mixture was, first, to prepare a catalyst from 50% sodium hydroxide solution and a small portion of the flour, and then to dry and grind this catalyst before adding it to the bulk of the flour. The reaction rate was increased by using active catalysts which were specially prepared, or by aging the reaction mixture. The reaction of flour with ethylene oxide was exothermic, and the rate also depended upon batch size, temperature, and mol ratio of reactants. Larger batches lost less heat, thus allowing a higher reaction temperature and reaction rate. Reaction rate was decreased by lower ratio of ethylene oxide to flour.