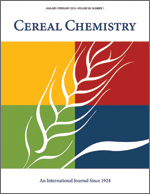 Cereal Chem 37:197 - 203. | VIEW ARTICLE

Grain Storage Studies. XXIX. Effect of Invasion by Individual Species and Mixtures of Species of Aspergillus upon Germination and Development of Discolored Germs in Wheat.
G. C. Papavizas and C. M. Christensen. Copyright 1960 by the American Association of Cereal Chemists, Inc.
Wheat samples were surface-disinfected and inoculated with spores of Aspergillus amstelodami, A. ruber, A. restrictus, and A. candidus, alone and in combinations, stored at 25 C. and at relative humidities of 75, 80, and 85% (14.7-14.9, 16.0-16.4, and 17.0-17.2% moisture content, respectively) and after 1 to 5 months tested for germination, discolored germs, and numbers and kinds of fungi. Inoculation with mixtures of species did not result in greater loss of germination or development of more germ damage than did inoculation with the most pathogenic species alone. Samples of durum, hard red spring, hard red winter, and white wheats were inoculated with spores of A. amstelodami and A. candidus, stored 3 months at 25 C. and 80% relative humidity, and similarly tested. Damage, as evaluated by reduction in germination and increase in discolored germs, was greater in the hard red winter and white wheats than in the durum and hard red spring wheats. The noninoculated controls in all tests remained free or almost free of fungi, retained a high germination percentage, and developed little or no germ damage.