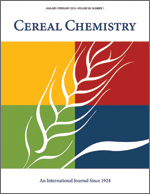 Cereal Chem 37:233 - 239. | VIEW ARTICLE

Effects of Absorption and Temperature upon Flour-Water Farinograms.
E. G. Bayfield and C. D. Stone. Copyright 1960 by the American Association of Cereal Chemists, Inc.
By the use of the farinograph, studies with flour-water doughs over a range of temperatures between 81.5 and 121 F. (27.5 and 49.4 C.) indicate that, at constant absorption, consistency softens with increase in temperature. With consistency held constant, the absorption decreases as the temperature increases. As the farinograph has been standardized at 30 C., the customary interpretation of farinograms may not be valid when the curves are obtained at temperatures other than normal.