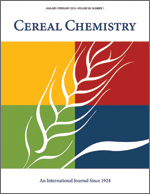 Cereal Chem 37:343 - 351. | VIEW ARTICLE

The Bromate Reaction in Dough. II. Inhibition and Activation Studies.
W. Bushuk and I. Hlynka. Copyright 1960 by the American Association of Cereal Chemists, Inc.
The amperometric titration method was used to study effects of seventeen different chemicals on the bromate reaction in dough. Results indicate that: 1) Iodate, chlorine dioxide, and oxygen react with the same reactive components as bromate but at much greater rates and, accordingly, inhibit both phases of the bromate reaction; 2) N-ethylmaleimide, and copper(II), mercury(II), silver and selenite ions inhibit the bromate reaction probably because of their ability to react with sulfhydryl groups; 3) vanadate and versene activate the bromate reaction; the former probably acts as a normal catalyst whereas the latter probably removes inhibiting ions; 4) urea and guanidine hydrochloride have no effect on the bromate reaction, indicating that the rate of the linear reaction is probably not diffusion-controlled.