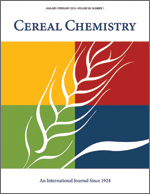 Cereal Chem 37:371 - 378. | VIEW ARTICLE

Effect of Environment, Variety, and Class of Wheat on Alpha-Amylase and Protease Activities of Malted Wheat.
J. R. Fleming, J. A. Johnson, and B. S. Miller. Copyright 1960 by the American Association of Cereal Chemists, Inc.
The effects of environment, wheat class, and variety on alpha-amylase and protease activities of malted wheat have been investigated. Because of the large variety-station interaction, the effect of variety and station on enzyme activities of hard red winter wheat malts was nonsignificant. Within a given station or variety significant differences were observed. On the basis of the enzyme activities of their malts, the wheat classes were rated in the following order: soft white, soft red winter, hard red winter, durum, and hard red spring.