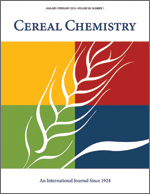 Cereal Chem 37:379 - 389. | VIEW ARTICLE

Damaged Starch. Quantitative Determination in Flour.
R. M. Sandstedt and P. J. Mattern. Copyright 1960 by the American Association of Cereal Chemists, Inc.
Damaged starch is readily and rapidly digested by the amylases, whereas the native undamaged starch is markedly more resistant to digestion. Based on these differences, a method is proposed for the quantitative determination of damaged starch in flour. The digestion of undamaged starch is appreciable and is not constant from flour to flour. Accordingly, the proposed method eliminates this digestion as a factor by determinations after 1-hour and 2-hour periods of digestion with extrapolation back to 0 time for the percent damaged starch. The slope of the curve is an indication of the susceptibility of the undamaged starch to digestion.