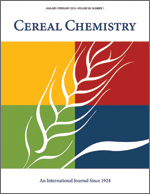 Cereal Chem 37:405 - 410. | VIEW ARTICLE

Grain Storage Studies. XXX. Chitin Content of Wheat as an Index of Mold Contamination and Wheat Deterioration.
M. Golubchuk, L. S. Cuendet, and W. F. Geddes. Copyright 1960 by the American Association of Cereal Chemists, Inc.
Chitin was determined on hydrolyzed crude fiber preparations from nine wheat samples with varying degrees of mold infestation by the colorimetric procedure of Elson and Morgan and a modification of Tracey's alkaline decomposition method. Both gave the same relative results, but the latter method gave higher values with a higher experimental error. The mean chitin values (expressed as glucosamine) for the two methods varied from 18 to 393 p.p.m. dry basis for the different samples. Wheats of low mold count, low fat acidity, and high viability gave glucosamine values of 18 to 55 p.p.m. Samples with mold counts of 8.8 and 400 million spores per g. with high fat acidity and zero viability contained 214 and 393 p.p.m. glucosamine. The chitin content of four samples from a previous storage experiment was more indicative of their fat acidity and viability values than mold spore count. The determination of chitin content offers promise in evaluating incipient grain deterioration, but for routine use the analytical procedures would have to be simplified and their replicability improved.