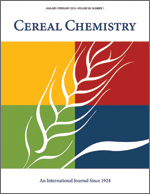 Cereal Chem 37:67. | VIEW ARTICLE

Intercomparison of Farinograph Absorption Obtained with Different Instruments and Bowls.
I. Hlynka. Copyright 1960 by the American Association of Cereal Chemists, Inc.
A method for precise intercomparison of different farinographs is described. The technique is illustrated by data on combinations of two farinograph instruments and three mixing bowls. Linear regression equations for the mobility-absorption relation were established, using the same flour. From these data precise values for absorption were evaluated corresponding to the 500 B.u. consistency. Conversely, values of consistency corresponding to a selected value of absorption were also evaluated.