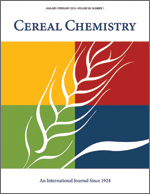 Cereal Chem 37:97 - 102. | VIEW ARTICLE

The Effect of Infestation by Tribolium castaneum Duv. on the Quality of Wheat Flour
S. Venkatrao, R. N. Nuggehalli, S. V. Pingale, M. Swaminathan, and V. Subrahmanyan. Copyright 1960 by the American Association of Cereal Chemists, Inc.
The changes occurring in hard Indian wheat flour (75% extraction) subjected to infestation by Tribolium castaneum Duv., in 4-gal. tins provided with lever lids, at a temperature of 85 +/- 5 F. and a relative humidity of 70-75%, were studied during a period of 5 months. The uric acid content (derived from insect excreta) of the infested flour was proportional to the insect population and served as a good index of the unhygienic condition in the flour due to the presence of insect excreta. A marked increase in fat acidity and a decrease in the thiamine content were observed in the infested flour. The gluten obtained from flour infested for 4 to 5 months was brittle. The values for the wheat meal time test gradually decreased with the progress of infestation, indicating a deterioration in the quality of gluten. The loaf volume of the bread also gradually decreased as the infestation progressed. Organoleptic evaluation revealed that bread made from flour infested for more than 1 month had an off-flavor and bitter taste and was not acceptable. The uninfested control flour remained in good condition throughout, and the bread made from it was quite acceptable.