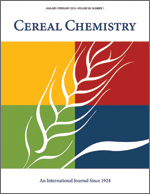 Cereal Chem 38:22 - 33. | VIEW ARTICLE

Steeping Studies with Corn Endosperm Sections.

S. A. Watson and E. H. Sanders. Copyright 1961 by the American Association of Cereal Chemists, Inc.

A technique is presented for studying the effect of variables in the steeping medium on the release of starch granules from corn endosperm. Corn kernels are softened in a water-saturated atmosphere and 10-micron sections are cut from the horny endosperm. The sections are suspended with gentle agitation in dilute solutions of potassium metabisulfite at pH 4 and 52 or 60 C. Sections are removed at intervals during a 6- hour steeping period and stained with iodine. Extent of starch release is measured photometrically and plotted against steeping time. This technique measures directly the tenacity with which the protein matrix holds the starch granules. In the absence of sulfur dioxide, no starch was released from the sections. Maximum rate and extent of starch release were obtained from corn samples steeped in solutions containing 0.15 to 0.4%, sulfur dioxide. Corn dried from 32% to 12% moisture in air at 120 F. (49 C.) gave normal starch release, but corn dried at 200 F. (93 C.) gave very little starch release under any steeping conditions. Corn dried at 180 F. (82 C.) and steeped at 52 C. (optimum commercial steeping temperature) with 0.2% sulfur dioxide, released two-thirds as much starch as the corn dried at 120 F. (49 C.).