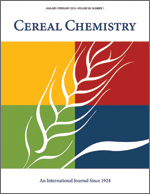 Cereal Chem 38:50 - 59. | VIEW ARTICLE

Ottawa Micro Flour Mill.

J. G. Kemp, A. G. O. Whiteside, D. C. MacDonald, and H. Miller. Copyright 1961 by the American Association of Cereal Chemists, Inc.

A micro flour mill was built for the rapid milling of small samples of wheat. It consists of four stands of rolls with two breaks and two reductions. The roll units are superimposed upon each other with a bran bolter below the second break unit and a flour bolter located at the bottom of the mill. Each roll unit has a fixed roll and a spring-loaded adjustable roll. Flour wheat samples of 100 g. or less may be milled at one time. In preliminary trials free-milling hard wheats yielded about 60 g. of flour per 100 g. of wheat in 7 minutes' mill-run time. Ten minutes' mill-run time increased the yield to 65 g. or more. Softer wheats required 13 minutes for the higher flour yields. Milling losses were in the order of 3 to 4 g. Flour ash was about 0.48%. The effective mill capacity was 18.4 samples per hour for the 10-minute and 14.6 samples for the 13-minute mill-run schedules.