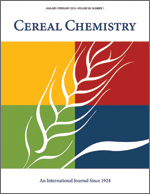 Cereal Chem 38:67 - 75. | VIEW ARTICLE

Measurements of the Particle Size Distribution of Flour.

R. R. Irani and W. S. Fong. Copyright 1961 by the American Association of Cereal Chemists, Inc.

The particle size distribution of flour, measured microscopically by gravitational sedimentation, centrifugal sedimentation, and sieving, all gave mean diameters and distribution curves which agreed with one another within experimental error. Measurements using changes in electrolytic resistivity gave particle size distributions that deviated significantly and nonrandomly from the other methods.