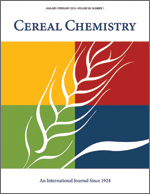 Cereal Chem 38:76 - 83. | VIEW ARTICLE

Changes in the Chemical Composition and in the Distribution of Nitrogen of Maize at Different Stages of Development.

R. Bressani and R. Conde. Copyright 1961 by the American Association of Cereal Chemists, Inc.

On a moisture-free basis, the nitrogen, crude fiber, and ash contents decreased, while the ether extract and carbohydrate content increased with maturation of the corn kernel. The alcohol-soluble nitrogen (zein) increased with development of the grain, the alkali-soluble nitrogen increased at first but decreased 16 days after flowering. The acid-soluble nitrogen of the corn kernel constantly decreased with maturation. The concentration of eight amino acids, in terms of nitrogen of the kernel, was followed during grain maturation. The results indicated that those amino acids found in significant amounts in zein increased, while those found in relatively small amounts in this protein fraction decreased.