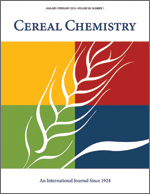 Cereal Chem 38:309 - 315. | VIEW ARTICLE

The Bromate Reaction in Dough. IV. Effect of Reducing Agents.

W. Bushuk and I. Hlynka. Copyright 1961 by the American Association of Cereal Chemists, Inc.

The rate of bromate ion reaction in dough is increased by thioglycolic acid, L(+) cysteine hydrochloride, glutathione (reduced), thiolated gelatin, sodium bisulfite, and sodium borohydride if these reagents are incorporated into the dough before addition of potassium bromate. For each reagent, the increase in the reaction rate is proportional to the amount added. Increases in the rate are similar for the first four reagents, slightly lower for bisulfite, and much lower for borohydride. These results are consistent with the hypothesis that the bromate ion reacts principally with -SH groups and that the number available is increased by the reagents studied.