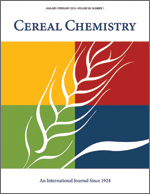 Cereal Chem 38:316 - 324. | VIEW ARTICLE

The Bromate Reaction in Dough. V. Effect of Flour Components and Some Related Compounds.

W. Bushuk and I. Hlynka. Copyright 1961 by the American Association of Cereal Chemists, Inc.

The disappearance of bromate in dough from a high-grade flour occurs by the reaction of sulfhydryl groups of flour proteins with the bromate ion. Starch and pentosans are not directly involved in the bromate reaction. Crude lipids seem to be involved indirectly. In doughs mixed in air, the lipids use up part of the available oxygen in the dough, probably by the lipoxidase-catalyzed peroxidation reaction, and, accordingly, decrease the inhibitory effect of the oxygen on the bromate reaction. Cumene hydroperoxide added to a dough mixed under nitrogen inhibits the bromate reaction; thus, lipid hydroperoxides, if produced in sufficient quantity, probably can compete with bromate for the sulfhydryl group. It is postulated that the involvement of lipids in the improver effect is through the reaction of sulfhydryl with hydroperoxides produced by the lipoxidase-catalyzed oxidation of lipids. n-Propyl gallate and butylated hydroxyanisole, common antioxidants, exert an inhibitory effect on the bromate reaction in doughs mixed in air but are inactive in doughs mixed in nitrogen. A reaction scheme explaining the role of various flour components in the sulfhydryl-bromate reaction in dough is proposed.