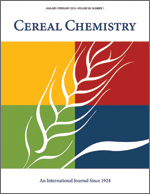 Cereal Chem 38:356 - 363. | VIEW ARTICLE

The Formation of Cracks in Rice During Wetting and Its Effect on the Cooking Characteristics of the Cereal.

H. S. R. Desikachar and V. Subrahmanyan. Copyright 1961 by the American Association of Cereal Chemists, Inc.

Milled raw or parboiled rice developed transverse lines of cracks when soaked in water. It took a longer time for the cracks to develop in parboiled rice than in raw rice. Formation of cracks was accelerated by temperature in the case of parboiled rice; whereas a retarding effect was observed above 70 C. in raw rice. After grains were soaked in water to develop these cracks, both raw and parboiled rice required a shorter cooking time, and the cooked grains were also longer than in the case of the unsoaked control samples. The absorption of water by rice grains made them opaque, and this property was used to study the mode of water penetration during soaking. In the initial stages, water entered the grain near its germ end and along the top line of fusion. Transverse lines of cracks developed after some time, and water entered the grain through these cracks subsequently. If the grains were already cracked before wetting, water absorption was quite fast, and the grains became opaque within a few minutes.