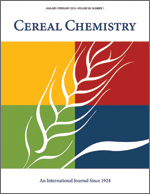 Cereal Chem 38:399 - 406. | VIEW ARTICLE

Preparation of Purified Zein by Adsorption-Desorption.

E. M. Craine, D. V. Freimuth, J. A. Boundy, and R. J. Dimler. Copyright 1961 by the American Association of Cereal Chemists, Inc.

A procedure was developed for preparing colorless zein that retains good solubility in aqueous ethanol. Zein was preferentially adsorbed from 70 volume-percent ethanol on a column of weak cation exchanger resin in the acid form and also was readily desorbed by salt in 70% ethanol. Isolation of the zein by slow precipitation from the aqueous ethanol through dialysis at 0 to 4 C. against water, followed by lyophilization, resulted in retention of good alcohol solubility. The nonhygroscopic, easily powdered product gives clear solutions in alcohol and merits consideration not only as a reference sample but also as a constituent of rations for animal feeding studies using zein. The purification procedure was shown to be applicable to unmodified zein extracted directly from corn meal and to commercial zein produced from gluten obtained in corn wet-milling.