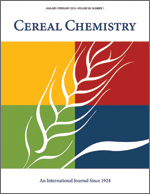 Cereal Chem 38:432 - 437. | VIEW ARTICLE

Gas Plasma Irradiation of Rice. II. Effect of Heat on Hydration and Cooking Characteristics.

J. T. Hogan and A. S. Roseman. Copyright 1961 by the American Association of Cereal Chemists, Inc.

The hydration characteristics of rice are greatly changed by the simultaneous application of heat and reduced pressure to milled rice, i.e., by a heat-vacuum treatment, or by subjection to a gas plasma irradiation under comparable conditions of pressure, time of treatment, and temperature. The water absorption capacity is slightly greater for vacuum samples prepared at 45 C. and above than for samples irradiated at the same temperatures. Rices treated with vacuum, vacuum heat, or irradiation, cook faster and have different appearances than cooked untreated (raw) rice. A substantial reduction in cooking time of the treated materials is brought about by the use of a 15- to 20-minute presoak period.