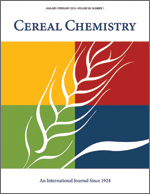 Cereal Chem 38:449 - 462. | VIEW ARTICLE

Complexes of Amylose with Surfactants.

E. M. Osman, S. J. Leith, and M. Fles. Copyright 1961 by the American Association of Cereal Chemists, Inc.

Eighteen surfactants, fatty acids and their esters with one, two, or more hydrocarbon chains, formed complexes with amylose having the same cell dimensions, as indicated by X-ray diffraction patterns. All surfactants used, with the exception of the diglycerides of hydrogenated soybean oil, greatly reduced the iodine affinity of amylose, but in no case was it reduced to zero. Soybean oil itself showed no indication of complex formation with amylose. For those surfactants containing a single hydrocarbon chain, the percentage of additive calculated for the hypothetical reduction of iodine affinity to zero, indicative of complete complex formation, appeared to be directly related to the percentage of the hydrocarbon portion of the molecule.