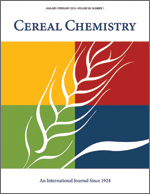 Cereal Chem 38:516 - 528. | VIEW ARTICLE

Chloroethanol as a Cereal Protein Dispersant.

N. W. Tschoegl. Copyright 1961 by the American Association of Cereal Chemists, Inc.

Wheat gluten may be dispersed virtually completely in 0.01N solution of hydrochloric acid in 70% aqueous 2-chloroethanol, from which it may be recovered by precipitation with diethyl ether with its properties apparently unaltered. A 0.1N solution of hydrogen chloride in anhydrous chloroethanol also disperses wheat gluten completely, but there is some loss of amide nitrogen and some of the free carboxyl groups become esterified. After precipitation with diethyl ether the cohesive properties of the gluten are lost. Anhydrous acid chloroethanol may be used also in the direct extraction of the proteins from wheat and rye flour, but is less effective in the extraction of barley and oat proteins. The extraction of the protein from the germ flour of the carob bean (Ceratonia siliqua) is still less complete. Acid-free anhydrous chloroethanol disperses about 60% of wheat gluten. Aqueous acid chloroethanol is about as efficient as anhydrous acid chloroethanol for wheat but extracts more oat flour protein. The intrinsic (bulk) viscosity of gluten dispersed in aqueous acid chloroethanol is much higher than that of gluten dispersed in anhydrous acid chloroethanol, but the reverse is true in regard to the limiting surface viscosities of gluten spread from these dispersions at an oil/water interface.