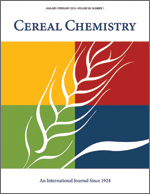 Cereal Chem 39:68 - 71. | VIEW ARTICLE

Detection of Aspergillus restrictus in Stored Grain.

C. M. Christensen and S. A. Qasem. Copyright 1962 by the American Association of Cereal Chemists, Inc.

A number of agar media were tested for the detection of Aspergillus restrictus in whole kernels of wheat and corn. Water agar and peptone or beef-peptone agar, each containing 18% sodium chloride, were better for this purpose than any of the other media tested; any of these three media appears to be a satisfactory selective medium for the fungus.