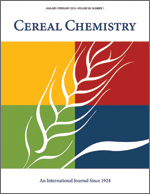 Cereal Chem 39:94 - 99. | VIEW ARTICLE

Determination of the Moisture Content of Seeds by Near-Infrared Spectrophotometry of Their Methanol Extracts.

J. R. Hart, K. H. Norris, and C. Golumbic. Copyright 1962 by the American Association of Cereal Chemists, Inc.

A rapid, specific, differential spectrophotometric method for determining the water present in methanol extracts of seeds is described. Extracts are prepared by the simultaneous grinding and extracting of the seeds in an enclosed cup by the method of Hart and Neustadt. The absorbance band of water at 1.93 microns is used. Extracts contain no compounds whose absorbances interfere. Small variations in temperature have no appreciable effect on results. It is necessary that extracts be completely free of suspended material. The standard deviation of the results from those obtained by titration with Karl Fischer reagent is +/- 0.24%. The method is more rapid than the Karl Fischer method. No expensive reagent is needed, and the technique required is less exacting.