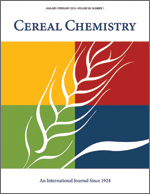 Cereal Chem 39:107 - 113. | VIEW ARTICLE

Isolation and Characterization of a Cyclic Hydroxamate from Zea mays.

R. H. Hamilton, R. S. Bandurski, and W. H. Reusch. Copyright 1962 by the American Association of Cereal Chemists, Inc.

A sweet compound with phenolic properties has been isolated from corn seedlings. It yields 6- methoxybenzoxazolinone as a degradation product and appears to be the cyclic hydroxamate 2,4- dihydroxy-7-methoxy-2H-1,4-benzoxazin-3(4H)-one.