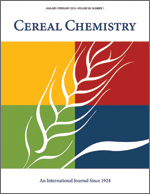 Cereal Chem 39:114 - 122. | VIEW ARTICLE

The Effect of Processing Variations on the Alcohol, Carbonyl, and Organic Acid Contents of Pre-ferments for Bread Baking.

E. W. Cole, W. S. Hale, and J. W. Pence. Copyright 1962 by the American Association of Cereal Chemists, Inc.

Pre-ferments containing different amounts of yeast and sugar were fermented at 35 C. for 6 hours and then maintained at 4 C. for 17 hours. Samples were removed hourly during the first 6 hours and at greater intervals thereafter. Production of total organic acids and alcohol was proportional to the starting sugar concentration, but total carbonyl compounds were less responsive. Alcohol and acid production tended to reach maximum values within 3 to 5 hours, whereas total volatile carbonyls continued to increase during the entire 6-hour period. Nonvolatile or residual carbonyls reached a peak within 2 to 4 hours and then declined substantially. Concentrations of all of the substances remained essentially constant during the 17-hour period at 4 C. Substitution of glucose for sucrose in the pre-ferments caused no significant effect. Fermentation at 25 or 30 C. caused a drop in total carbonyl production but no significant change in the quantities of alcohol and total organic acids. The major compound among the nonvolatile carbonyls was pyruvic acid.