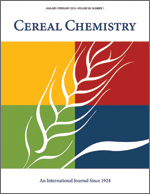 Cereal Chem 39:263 - 272. | VIEW ARTICLE

Quantitative Determination of Certain Carbonyl Compounds in Pre-ferments.

Y.-Y. Linko, B. S. Miller, and J. A. Johnson. Copyright 1962 by the American Association of Cereal Chemists, Inc.

A technique combining paper and vapor-phase chromatography was used to identify and determine the quantity of certain carbonyl compounds in bread pre-ferments. In addition to the previously reported carbonyl compounds, propionaldehyde and n-hexaldehyde were isolated from pre-ferments for the first time. The concentrations of carbonyl compounds were determined by employing the ultraviolet absorption of their 2,4-dinitrophenylhydrazine derivatives. Where separation by paper chromatography was unsuccessful, the spots were eluted and the relative quantities of different components were determined by vapor-phase chromatography. The effect of several different microorganisms on the amount of carbonyl compounds in pre-ferments was studied. Only Pediococcus cerevisiae had a pronounced effect by substantially increasing the quantity of acetone.