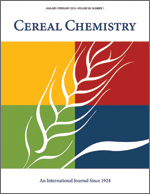 Cereal Chem 39:273 - 281. | VIEW ARTICLE

Preparation and Properties of Sulfated Wheat Flour.

H. E. Smith, C. R. Russell, and C. E. Rist. Copyright 1962 by the American Association of Cereal Chemists, Inc.

Ungelatinized sulfates of hard red winter wheat flour with sulfur contents ranging from 1.97 to 4.60% calculated as weight percent -SO[3]H were prepared in 80 to 90% yields by treatment with trimethylamine- sulfur trioxide in an aqueous system catalyzed by sodium hydroxide. The influence of temperature, time, catalyst concentration, and the amount of trimethylamine-sulfur trioxide on the extent of sulfation, yields, and properties of the flour sulfates are discussed. The most distinctive characteristics of the sulfated flours are their high degree of dispersibility, high viscosity, and exceptional clarity in aqueous systems. Brookfield viscosities of 2% (by weight) aqueous dispersions of wheat flour sulfates at 25 C. and 30 r.p.m. ranged from 900 to 4,300 centipoises as compared to only 30 for unmodified wheat flour. Clarity of 1% (by weight) aqueous dispersions of the flour sulfates ranged from 91 to 93% based on 100% transmission for distilled water. At the same concentration, unmodified wheat flour had a clarity value of only 12%. Preliminary evaluations of the suitability of sulfated wheat flour for a number of industrial applications are sufficiently promising to warrant further investigations of its utility as a flocculating agent, an oil-well drilling-mud additive, and a surface size for paper.