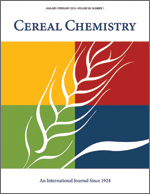 Cereal Chem 39:311 - 317. | VIEW ARTICLE

An Improved Method for the Preparation of Wheat Gliadin.

C. E. McDonald. Copyright 1962 by the American Association of Cereal Chemists, Inc.

Good yields of gliadin free of lipid, carbohydrate, and protein impurities are obtained in less time and with less cumbersome operations, by a new alcoholic method. Protein impurities present in 35% isopropyl or 30% tert-butyl alcohol extracts of gluten are precipitated by pH adjustment and cooling. Lipid impurities are adsorbed on decolorizing carbon. Gliadin is then precipitated by adjusting the pH, diluting with water, and cooling the extract. Carbohydrate impurities remain behind in solution. The precipitate is washed with water and lyophilized. The final product is high in total and amide nitrogen, readily soluble in 60% ethyl alcohol or dilute acids, and bland in favor.