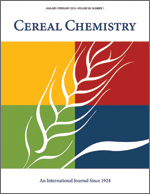 Cereal Chem 39:336 - 340. | VIEW ARTICLE

Electrophoretic Composition of Glutens from Air-Classified Flours.

R. W. Jones and R. J. Dimler Copyright 1962 by the American Association of Cereal Chemists, Inc.

Gluten was separated from the flour and from the high- and low-protein fractions of a hard red winter, a soft red winter, and a club wheat. These glutens were compared, using both starch-gel and moving-boundary electrophoresis. Glutens from a given wheat flour and from its high- and low-protein fractions were electrophoretically identical and exhibited the same components in the same relative concentrations.