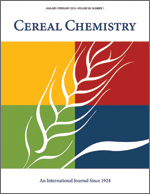 Cereal Chem 39:344 - 349. | VIEW ARTICLE

The Centrifuge Method for Determining Flour Absorption in Hard Red Spring Wheats.

F. W. Sosulski. Copyright 1962 by the American Association of Cereal Chemists, Inc.

A study of factors influencing centrifuge absorption when applied to hard spring wheats has been made. Greater precision was obtained by increasing the size of sample and oven-drying the centrifugal tubes before weighing. Higher correlations with baking and farinograph absorption were obtained using eight mixing periods as compared to four mixing periods. The modified procedure gave sufficiently high correlations with baking and farinograph absorption to indicate its possible usefulness in selection for flour absorption among plant breeders' samples. An analysis of 17 hybrid populations in the F4 generation indicated that a wide range in centrifuge absorption existed among single plant segregates in many of the crosses. Certain varieties appeared to be particularly useful as parents in breeding for flour absorption.