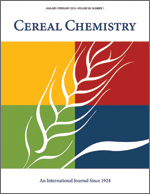 Cereal Chem 39:351 - 363. | VIEW ARTICLE

Rheological Studies of the Role of Lipids in Dough.

K. M. Narayanan and I. Hlynka. Copyright 1962 by the American Association of Cereal Chemists, Inc.

Doughs from normal flour show only a modest response to mixing in atmospheric oxygen as indicated by structural relaxation data. Doughs from defatted flour show a very marked effect of air, indicating that the lipids have a protective action against the improver effect of oxygen. Flour extracted with petroleum ether and reconstituted with the lipids that were removed, regained the properties of normal flour. Reconstitution of extracted flour with free fatty acids showed both an initial improver effect of atmospheric oxygen and a subsequent protective effect similar to that of the lipid fraction. Oleic and linoleic acids showed a protective action, while palmitic did not. The unsaponifiable fraction of flour lipids, tocopherol, propyl gallate, nordihydroguaiaretic acid, butylated hydroxytoluene and butylated hydroxyanisole-all well-known antioxidants-had an improving effect when doughs were mixed in air. The improving agents, bromate and iodate, gave apparently a greater response to doughs from defatted flour on mixing in air, and this was due to the marked effect of oxygen on defatted flour.