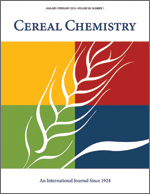 Cereal Chem 39:427 - 436. | VIEW ARTICLE

Some Studies with Maleimide-Type Sulfhydryl-Blocking Agents.

C. C. Lee and L. M. Reynolds. Copyright 1962 by the American Association of Cereal Chemists, Inc.

Maleimide (MI), N-ethylmalemide (NEMI), and N-phenylmaleimide (NPMI) all react with L-cysteine to give the expected adducts. Similar effects are exerted by each of these three reagents on mixogram characteristics, on gassing power of yeast, or on loaf volume. Such similarities indicate that sulfhydryl groups must be involved in the mixing of dough and the baking of bread. NPMI exerts its sulfhydryl- blocking influence less effectively than MI or NEMI. The possible relationships between the over-all size of the reagent and its effectiveness in approaching and reacting with sulfhydryls of macromolecules such as proteins are discussed.