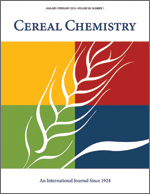 Cereal Chem 39:477 - 481. | VIEW ARTICLE

Oxidation of Wheat Starch and Chlorine.

N. Uchino and R. L. Whistler. Copyright 1962 by the American Association of Cereal Chemists, Inc.

Hard wheat starch was more rapidly oxidized by chlorine gas in the light than in the dark and at 25 C. than at 15 C. Oxidation rate increased rapidly with moisture content of the starch. Hydrolysis of the oxidized starch yielded D-gluconic acid with very small amounts of D-glucuronic acid. It is suggested that wheat starch at 15.3% moisture reacts with chlorine gas, first undergoing hydrolysis and then oxidation of the freed aldehyde groups to produce starch chains with D-gluconic acid end units.