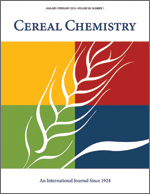 Cereal Chem 40:89 - 100. | VIEW ARTICLE

Flour Maturing and Bleaching with Acyclic Acetone Peroxides.

C. G. Ferrari, K. Higashiuchi, and J. A. Podliska. Copyright 1963 by the American Association of Cereal Chemists, Inc.

The preparation, properties, and chemical nature of the acyclic acetone peroxides are described. Carotene values commercially bleached flour are given as a basis for evaluating the bleaching effect of the new product. Maturing may be accomplished by treatment with 0.0015%, to 0.008% hydrogen peroxide equivalents of the acyclic acetone peroxides, the quantity depending largely on flour grade. When the amount required for optimum maturing does not remove color adequately, as often occurs, relatively small quantities of benzoyl peroxide may be added to attain the desired bleaching effect. Data for carotene values and baking tests illustrate the effect of flour treatment with acyclic acetone peroxides, alone and in combination with benzoyl peroxide and chlorine dioxide. Stability of the starch-acetone peroxide composition is excellent at 50 and good at 70F, but diminishes as temperature of storage is increased above room temperature. Enrichment vitamins are unaffected by the acyclic acetone peroxides used for maturing and bleaching flour. Studies by a radioactive tracer technique show a residue of 0.5 p.p.m. in bread, calculated as acetone equivalents.