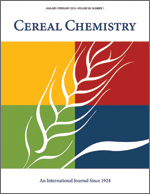 Cereal Chem 40:101 - 109. | VIEW ARTICLE

Thin-Boiling Starches from the Reaction of Corn Starch with Chlorine in Methanol.

W. C. Schaefer, C. R. Russell, J. J. Maurice, and C. E. Rist. Copyright 1963 by the American Association of Cereal Chemists, Inc.

Corn starch was slurried in approximately an equal weight of methanol and reacted with chlorine at concentrations up to 5%, based on methanol, for periods up to 2 hours and at temperatures ranging from 25 to 65C. In the light of previous experience with dialdehyde starches, these reaction conditions would be expected to introduce methyl and carboxyl groups into the resulting products, but none could be detected by existing analytical procedures. By varying temperature, reaction time, and amount of chlorine, thinboiling starches were produced that had intrinsic viscosities ranging from 1.53 to 0.06 in 1N potassium hydroxide. These products and commercial thin-boiling starches having similar intrinsic viscosities were compared for several paste properties. The new starches had lower alkali numbers, similar pasting temperatures, higher paste viscosities and setback, and slightly lower paste clarities. Unsupported films of the new products were stronger.