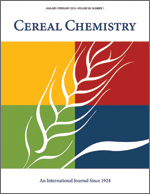 Cereal Chem 40:145 - 153. | VIEW ARTICLE

Flour Lipids and Oxidation of Sulfhydryl Groups in Dough.

C. C. Tsen and I. Hlynka. Copyright 1963 by the American Association of Cereal Chemists, Inc.

Flour dough lost its sulfhydryl groups faster than did defatted flour dough when mixed in oxygen or air for over 5 minutes. This difference between the normal flour dough and the defatted flour dough is attributed to the oxidation of lipids in dough. Oxidized flour lipids or oxidized metyl linoleate, when incorporated into doughs, increased the sulfhydryl oxidation and exerted an improving effect (increased extensigram height), as did such simple peroxides as t-butyl hydroperoxide, methyl ethyl ketone peroxides, and acetone peroxides. It thus appears that when enough oxygen is available in dough, it reacts with both sulfhydryl groups and lipids, and that oxidized lipids also oxidize sulfhydryl groups and thus exert an improving effect. The effects of peroxides, used as flour maturing agents, can be attributed to their oxidizing action on sulfhydryl groups.