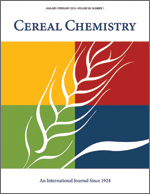 Cereal Chem 40:154 - 161. | VIEW ARTICLE

Some Factors Affecting the Tensile Strength of Starch Films.

N. E. Lloyd and L. C. Kirst. Copyright 1963 by the American Association of Cereal Chemists, Inc.

The effects of starch variety, granule modification, and humidity of the strength and elongation of starch films were investigated. Film strength of different varieties increased with increased amylose content. Waxy maize films gave lower elongation than films of nonwaxy varieties. Corn starches that had been acid- modified, hypochlorite-oxidized, hydroxyethylated, heat-moisture-treated, or cross-bonded with epichlorohydrin (0.24% or less) to impart widely different solubility and viscosity properties showed only moderate differences in strength and elongation. Corn starch cross-bonded with 0.48%, epichlorohydrin did not form a continuous film. Increasing the solubility of corn starch by a high-shear treatment in dilute paste form resulted in slightly increased film strength and markedly improved elongation. Humidity (i.e., film moisture) was the most important factor. Increasing humidity from 35 to 65%, decreased film strength by 43%.