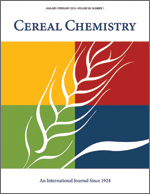 Cereal Chem 40:182 - 186. | VIEW ARTICLE

Effect of Maltose on Acid Reversion Mixtures from D-Glucose in Relation to the Fine Structures of Amylopectin and Glycogen.

M. L. Wolfrom, A. Thompson, and R. H. Moore. Copyright 1963 by the American Association of Cereal Chemists, Inc.

The products obtained by heating very dilute maltose and D-glucose mixtures in acid solution in a boiling water bath for 8 hours are not markedly different from those produced from D-glucose alone under the same conditions of concentration, acidity, and temperature.