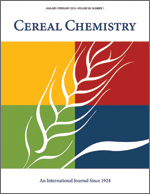 Cereal Chem 40:277 - 281. | VIEW ARTICLE

Tests of Corn Stored Four Years in a Commercial Bin.

R. E. Welty, S. A. Qasem, and C. M. Christensen. Copyright 1963 by the American Association of Cereal Chemists, Inc.

In September 1957, approximately 100,000 bushels of Grade No. 2 yellow corn were loaded into a flat-type bin at Mankato, Minnesota. When stored the corn was high in germination percentage, low in storage fungi, with zero germ damage and a moisture content from just below to just above 14%. Periodic aeration maintained a temperature between 40 and 50 F. throughout most of the bulk. Samples were taken every 6 months at depths of 3, 9, and 12 ft. in each of seven locations in the bin, and tested for moisture content, germination, number and kinds of fungi, and germ damage. Temperature fluctuated somewhat in the grain at a depth of 3 ft., with seasonal changes in temperature of the outside air, but remained constant at depths of 9 and 12 ft. Moisture content of the grain decreased slightly at a depth of 3 ft., remained constant at a depth of 9 ft., and increased slightly at a depth of 12 ft. Invasion by storage fungi increased considerably in the corn at a depth of 3 ft., and slightly at depths of 9 and 12 ft., and this was accompanied by reduction in germination percentage of the seed. Other than this the grain remained in essentially its original condition throughout the more than 4 years of storage. The laboratory tests served to indicate condition of the grain when samples were taken and to predict storability.