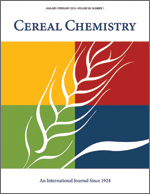 Cereal Chem 40:291 - 302. | VIEW ARTICLE

Performance of Fats and Oils in Pastry and Biscuits.

R. H. Matthews and E. H. Dawson. Copyright 1963 by the American Association of Cereal Chemists, Inc.

The performance of corn oil, cottonseed oil, soybean oil, lard, and two hydrogenated vegetable fats, each at five different levels. was measured in pastry and in baking-powder biscuits. The fats and oils used were produced for the retail market. Taste panel evaluations of tenderness and flakiness showed highly significant correlations with physical measurements. Under the conditions of this research, the oils were more efficient shortening agents in pastry, and the solid fats in baking-powder biscuits. Pastry was nearest optimum in quality characteristics at the 45% level of oil, and at the 51% level of solid fat. In baking- powder biscuits, a level of fat between 25 and 38% was optimum for all six fats. For good-quality pastry, even distribution and high specific gravity of oil droplets or fat crystals are important. In baking-powder biscuits, however, plasticity and low specific gravity, as well as fine crystals of fats, are essential for good shortening ability. Good-quality pastry and baking-powder biscuits were made with any one of the fats and oils investigated.