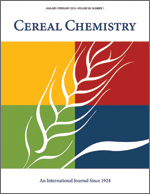 Cereal Chem 40:351 - 360. | VIEW ARTICLE

Curtain Electrophoretic Separation of the Water-Soluble Constituents of Bleached Cake Flour.

R. G. Strobel and J. Holme. Copyright 1963 by the American Association of Cereal Chemists, Inc.

The constituents of bleached cake flour which are extractable by water (2 parts water:l part flour) have been fractionated by means of curtain electrophoresis in acetic acid-formic acid, pH 2.27, into carbohydrate, protein, and mineral fractions. The single carbohydrate fraction and two of the four protein fractions have been examined by moving-boundary electrophoresis and ultracentrifugation. Comparison of these materials with the original aqueous extracts and fractions derived by salt-precipitation techniques has been carried out. Migration characteristics in aluminum lactate buffers as well as solubility properties suggest that the major protein fraction, P(3), consists of a mixture of gliadin and albumins. The carbohydrate fraction, as shown by various staining techniques as well as electrophoretic behavior on the curtain and in the moving boundary, has been obtained essentially free of protein. The curtain electrophoretic technique has proved of value in yielding fractions suitable for further chemical characterization.