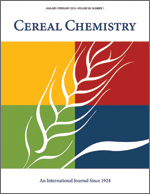 Cereal Chem 40:372 - 384. | VIEW ARTICLE

The Oxidation of Wheat Flour. V. Effect of Lipid Peroxides and Antioxidants.

L. K. Dahle and B. Sullivan. Copyright 1963 by the American Association of Cereal Chemists, Inc.

The improver action of peroxidic linoleate and of lipoxidase-linoleate systems was compared with the improver action of hydrogen peroxide which was much greater. The reactivity of a lipoxidase-linoleate system to glutathione was found to be low. Assay of oxidized lipid by the 2-thiobarbituric acid method confirmed the oxidation of lipids in dough during mixing and established, qualitatively, a slight interaction of sulfhydryl and oxidizing lipid. The effect of thioctic acid on the improver action of oxidized lipid was studied and interpreted in terms of the amount of thioctic acid present in flour. All evidence from these investigations suggests that the role of peroxidic lipid as a sulfhydryl agent is a minor factor of maturing action during mixing.