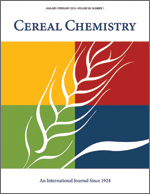 Cereal Chem 40:409 - 414. | VIEW ARTICLE

Fractionation of Wheat Gluten by Gel Filtration.

R. W. Jones, G. E. Babcock, N. W. Taylor, and R. J. Dimler. Copyright 1963 by the American Association of Cereal Chemists, Inc.

Wheat gluten was fractionated into glutenin and gliadin on columns packed with a special cross-linked dextran (Sephadex 2)The glutenin was essentially pure electrophoretically, while the gliadin was contaminated with traces of glutenin. Gliadin components moved at slightly different rates, but resolution was not sufficient to yield separate components.