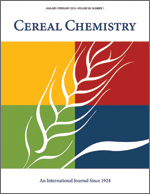 Cereal Chem 40:415 - 422. | VIEW ARTICLE

Studies with Radioactive Tracers. VII. Investigations with Flour Containing P(32).

C. C. Lee and K.-M. Wan. Copyright 1963 by the American Association of Cereal Chemists, Inc.

Phosphate-P(32) was injected into the stems of maturing Thatcher wheat. The harvested kernels were milled and the P(32) distribution in the milling products ascertained. Fractionation of the P(32)-containing flour indicated assimilation of the injected activity into all fractions of the flour. Confirmatory data were obtained regarding earlier conclusions of other workers on the effectiveness of different solvents in extracting phospholipids and on the binding of lipids by the glutenin fraction of gluten.