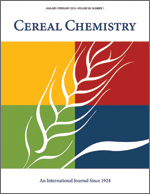 Cereal Chem 40:436 - 441. | VIEW ARTICLE

Carotenoids of Corn and Sorghum. III. Variation in Xanthophylls and Carotenes in Hybrid, Inbred, and Exotic Corn Lines.

C. W. Blessin, J. D. Brecher, R. J. Dimler, C. O. Grogan, and C. M. Campbell. Copyright 1963 by the American Association of Cereal Chemists, Inc.

Common hybrids of commercially grown yellow corns supply only part of the xanthophyll pigments desired in poultry rations. Xanthaphyls of typical double-cross hybrid yellow dent corns varied from 10 to 30 p.p.m. and carotenes from 1 to 4 p.p.m. The feasibility of breeding high-xanthophyll corn was investigated by a preliminary screening of selected inbred and exotic corn lines of known genetic background. Several inbred samples look promising as sources of the high-xanthophyll character at the. 50-p.p.m. level. Some exotic strains from South America, particularly Argentina, contained approximately 60 p.p.m. xanthophylls, which is the highest level found to date. The degree of yellow pigmentation in a cross-section of the endosperm was used for preliminary visual estimation, since outward appearance of the intact seed was not correlated with xanthophyll content. Analyses of several samples indicates that xanthophylls and carotenes may be independently inherited.