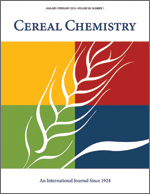 Cereal Chem 40:442 - 449. | VIEW ARTICLE

Starch-Liquefying Properties of Crystalline Alpha-Amylases.

M. S. Moro, Y. Pomeranz, and J. A. Shellenberger. Copyright 1963 by the American Association of Cereal Chemists, Inc.

The pH optima for liquefying action of crystalline amylases were 4.5, 6.8, and 6.0 for the enzymes from fungal, pancreatic, and bacterial sources, respectively. The enzymes exhibited a stability over the pH ranges of 4-8, 5-8, and 5-12, respectively. The temperatures at which inactivation started were 50 C. for Taka- Amylase, 45 C. for the enzyme of pancreatic origin, and above 60 C. for the enzyme of bacterial origin. An essentially linear plot was obtained for the relation between low levels of enzyme activity and viscosity drop. Both purified and commercial preparations of fungal and pancreatic amylases were completely inactivated by incubation with a number of quaternary ammonium compounds; the inactivation of the enzyme of bacterial origin was only partial. With the cereal amylases, the extent of inactivation varied with the concentration of the enzyme, the more purified enzyme being inactivated to a greater degree than the low activity amylases.