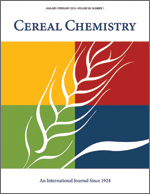 Cereal Chem 40:450 - 458. | VIEW ARTICLE

Characteristics of the Various Soybean Globulin Components with Respect to Denaturation by Ethanol.

R. C. Roberts and D. R. Briggs. Copyright 1963 by the American Association of Cereal Chemists, Inc.

Of the four components of soybean globulins that are resolvable in the analytical ultracentrifuge, the 7S component is very rapidly denatured (rendered insoluble in phosphate buffer at pH 7.6, ionic strength 0.5) when the wet curd is brought into contact with ethanol-water mixtures of 20% or greater concentrations of the alcohol. By contrast, the rate of denaturation of the l1S and 15S components is slow, and the 2S component is not denatured at all. Variations in the extents of denaturation of the components in relation to the times of contact and concentrations of ethanol are reported.