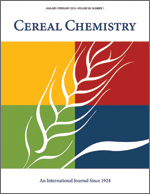 Cereal Chem 40:539 - 553. | VIEW ARTICLE

A New Powdered Agent for Flour Maturing.

R. R. Joiner, F. D. Vidal, and H. C. Marks. Copyright 1963 by the American Association of Cereal Chemists, Inc.

The preparation, chemical nature, and properties of a new maturing agent, azodicarbonamide, and its reduction product, biurea, are described. Data are presented to show that azodicarbonamide and its premixes have excellent stability. A postulated reaction mechanism of this new product in maturing flour is discussed. Treatment levels ranging from 2 to 45 p.p.m. of azodicabonamide are required to accomplish maturing, the amount depending on the grade of flour. Baking data are given showing the effect of flour treatment with azodicarbonamide alone and in combination with benzoyl peroxide or bromate. The effects of azodicarbonamide on dough properties are illustrated by different physical dough testing methods. Ease of application of this maturing agent is demonstrated in commercial mill trials. Azodicarbonamide does not accelerate the onset of rancidity in flour. Natural or enrichment vitamins are unaffected by azodicarbonamide. Recovery data for biurea and radiotracer residue studies with azodicarbonamide are presented. Pharmacological and toxicological studies establish its safety.